We're going to be discussing one of the most prominent private universities in Bangladesh: International University of Business Agriculture & Technology (IUBAT). IUBAT is a private institution of higher education located in the middle of the country of Bangladesh, which is the country's main metropolitan city.
This university has made significant contributions to Bangladesh's contemporary development. IUBAT is a student-friendly institution with world-class educational facilities.
IUBAT offers numerous courses and programs leading to official higher education degrees such as bachelor and master degrees in various fields of study.
International University Of Business Agriculture & Technology  also provides several academic and non-academic facilities and services to students including sports facilities, a library, housing, study abroad and exchange programs, financial aids and scholarships, as well as administrative services.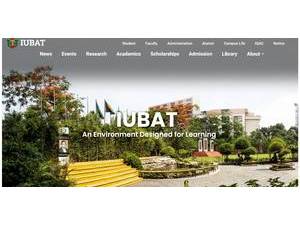 University Identity:
Name of Uni: International University Of Business Agriculture & Technology
Acronym of Uni: IUBAT
Established:1993
Motto: An Environment Designed For Learning
Colours: Green
Contact Info: 
Address: 4 Embankment Drive Road, Sector-10, Uttara Model Town Dhaka, Bangladesh
Phone: +880 (2) 896 3523-27
Email: info@iubat.edu
Web: http://www.iubat.edu